Welcome to update 4 from Ride for Climate!
Since last update, I have biked across Colombia, Venezuela, and northern Brazil, traversing the Andes, the Amazon, and crossing the equator. I crossed the 'half-way' point of this trip in Venezuela, and the trip odometer has passed 9,000 miles. Ride for Climate continues to reach a wide audience, and since last update, I have visited schools and appeared in newspapers and television in almost every major city I have visited. I write you now from the banks of the Amazon River (map).
Below are entries from the past three months.
COLOMBIA:
VENEZUELA:
BRAZIL:
BEST VIDEOS:
A bombero celebrates his birthday in Medellin, Colombia
Bicycle commuters in Bogota, Colombia
A bike is faster than an ambulance in Caracas, Venezuela
Truck full of kids yelling 'gringo! gringo!'
Entering an indigenous reserve in the Amazon
WHAT DOES GLOBAL WARMING MEAN FOR COLOMBIA, VENEZUELA, AND BRAZIL?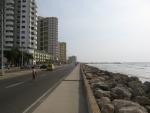 Due to rising sea levels, many of the coastal areas I visited, and especially the historic city of Cartagena in Colombia, are at risk. The water source for Bogota, Colombia's capital, is also at risk (see journal entry), as the ecosystem that supplies the water sits at the mountain tops and may not survive global warming. This would also undoubtedly cause extinctions. In my journals, I also wrote about floods in Caracas as well as potential droughts in the Amazon – there is a chance that global warming will cause the Amazon to dry out. I also wrote about the coral reefs that I visited off the coast of Venezuela – these too are at risk.
One topic I have not discussed in my journals, but hope to do so, is the possible spread of tropical diseases. In Colombia and Venezuela, the majority of the population lives in the mountains, where it is too cold for many tropical diseases such as malaria or dengue. As the climate warms, more of these centers may be exposed to such diseases.
CHECK BACK SOON FOR RIDE FOR CLIMATE USA
I am currently working with people in the U.S. to plan the next phase of Ride for Climate – a loop around the United States to promote solutions to global warming. I will be sending you all an email shortly about this project and asking for your help, so stay tuned!
DO YOU KNOW PEOPLE DOWN THE ROAD?
Over the next few months I will be stopping in the following cities: Iquitos, Yurimaguas, Huaraz, Lima, Cusco, and La Paz, as well as potentially other locations. If you know of people along the way that would be interested in hosting a ride for climate presentation (or simply help with a place to stay), let me know.
I am currently taking a boat up the Amazon River from Manaus into Peru. From Peru, I will bike across the Andes, and then follow the mountain range south crossing Peru and Bolivia before crossing into Argentina and Chile, at which point I will send out another update.
Thank you again to everyone who has helped with this journey, and feel free to send me an email! Best,
David
Miles by country:
Colombia: 1,123
Venezuela: 1,188
Brazil: 651