(If you are signed up for the email list, you would get this entry emailed to you)
Ride for Climate followers,
Hello from northern Patagonia. It is summer here, and I am relaxing in a small town before continuing on for the very last stretch of this journey. I have recently read through my personal journals for the past 15 months and I am literally having trouble processing everything that has happened. I find it difficult to believe how long ago it was that I was crossing Mexico, let alone how long ago it was that I left my front door in California and started biking south.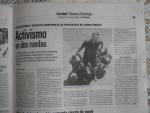 Since last update I have zigzagged southward across the Andes (see map of Boliva and Argentina & Chile), crossing the Atacama desert, northern Argentina, and central Chile. I have just crossed back into Argentina for the final push southward through Patagonia. As schools have been on summer vacation, I have given almost no presentations, but I have appeared on a few news programs and publications across this end of the continent.
ENTRIES FROM THE PAST TWO MONTHS
BEST VIDEOS
Youtube video of me on Chilean National TV
Biking off into the sunset on the world's largest salt flat
Official Christmas video of Ride for Climate
Lots of bikes are used in northern Argentina
View from 18,000 ft in the Andes near Santiago
GLOBAL WARMING AND SOUTHERN SOUTH AMERICA
Since the last update, I have written about the danger of future heat waves as well as the risks to water supply for people who live along the Andes and depend upon snow and glacial water. There are many risks that I have not written about recently – such as rising sea levels, increased chances of both droughts and floods, and loss of biodiversity. As many of you know, the IPCC – an international team whose results almost all governments of the world have accepted – recently published their conclusions that we are to blame for global warming, and that it will get much worse unless we do something. The time to act has come.
RIDE FOR CLIMATE USA
Travel dates for Ride for Climate USA, the planned trip around the US, are being set. I have added to the bottom of this email our schedule for the first month of travel. Do you know people in these places that would be interested in events? If so, send the website their way. We are still in the process of setting up presentations and finding places to stay, so spread the word!
KNOW PEOPLE IN PATAGONIA OR BUENOS AIRES?
If you know people in the southern cities of Punto Arenas or Ushuaia (or any towns along the way), let me know. I will also be flying out of Buenos Aires, likely spending a few days in the capital city. Schools will be in session, so if you know of a school that would like a presentation, let me know.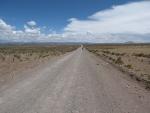 Look for one more final update when I reach the islands at the tip of South America. I am almost there…..
In Patagonia,
David
Flats by country:
Bolivia: 1
Argentina: 1
Chile: 4
Ride for Climate USA Schedule (subject to small changes)
Boston, MA ~ Ride begins! – April 21
Amherst, MA ~ April 23
Hartford, CT ~ April 25
Brooklyn, NY ~ April 30
New York, NY ~ May 1
Lambertsville, NJ ~ May 3
Westchester, PA ~ May 5
Philadelphia, PA ~ May 6
Gettysburg, PA ~ May 7
Chambersburg, PA ~ May 8
Pittsburgh, PA ~ May 13
Oberlin, OH ~ May 20
Bowling Green, OH ~ May 21
Monroe, MI ~ May 23
South Bend, IN ~ May 26
Chicago, IL ~ May 28
You can see more of what might come at www.rideforclimate.com/usa/events.html