(You would receive this entry as an email if you are signed up for the email list)
Hello from South America!
Since the last update, I have biked the length of Central America, visiting all 7 countries (see map of my route) and adding 2,400 miles to the trip. This trip continues to exceed my expectations, and I have visited schools and appeared in the national media of almost every country I have biked through. I am now in Colombia, where I arrived from Panama only a few days ago.
JOURNAL ENTRIES FOR CENTRAL AMERICA
BEST VIDEOS FROM CENTRAL AMERICA (click on the links below to watch)
Scuba diving in Belize
Kids dancing at pool in Nicaragua (large file – watch only if you have a high speed connection)
My father joins me and rides a silly looking bicycle
Dogs chasing me in Costa Rica
Riding through the Panama Canal
WHAT DOES CLIMATE CHANGE MEAN FOR CENTRAL AMERICA?
Central America is a region highly vulnerable to climate change. Rising sea levels and stronger storms could cause hardship, especially for the poor (of which there are a lot in Central America). Climate models for the region show warmer temperatures as well as perhaps less precipitation, both of which will be bad for agriculture. Many species as well may be threatened by a warmer climate. Finally, the coral reefs that line the coasts are greatly threatened by a warmer earth.
TAKE ACTION
Environmental Defense has a new website to help you reduce your carbon emissions: www.fightglobalwarming.com On this site you can calculate how much carbon dioxide you put into the atmosphere, and learn how to reduce these emissions.
NEW DONATE FEATURES
I have created a paypal link so that you can give money on my site to the Union of Concerned Scientists and Environmental Defense. Many people have also offered to help with my travel expenses, and there is now also a link for this. These are on my take action page.
WHAT WILL I DO WHEN I AM DONE WITH THIS TRIP?
Did you really think I would stop biking? I have decided I need to take rideforclimate to the U.S. Here are the tentative plans.
DO YOU KNOW PEOPLE IN COLOMBIA, VENEZUELA, OR NORTHWEST BRAZIL?
In Colombia, I am biking through Cartagena, Medellin, and Bogota. I'll then head towards Venezuela, following the northern coast before turning south into Brazil. I will arrive in Manaus, which sits on the Amazon River, where I will likely send my next update. If you know of organizations, schools, or researchers to visit on this route, let me know!
I am now in Cartagena, Colombia, on the northern coast of South America. If all goes to plan, in 10 or 11 months I will be at southern tip of the continent, in Ushuia, Argentina.
David
Total Miles Biked: 6321
Flats by country in Central America: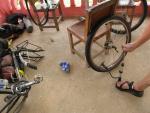 Belize: 0
Honduras: 4
El Salvador: 1
Nicaragua: 0
Costa Rica: 1
Panama: 10 (ugh)
A Ride for the Climate is sponsored by:
Tarptent
Mike's Bikes of Palo Alto
Chaco
Clif Bar
Hobson Seats