After a night in a small Guatemalan village (where I ran into a high school friend), I crossed into Belize. My friend Dennis Murphree was flying into the Belize City airport that afternoon, and I planned to bike and meet him. I asked the customs agent how many kilometers it was to Belize City. The customs agent, a man of African descent, replied in English 'I don't know how many kilometers it is, but I do know it is 75 miles.'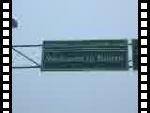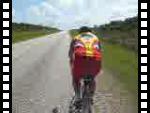 Belize is more of a Caribbean nation than a Central American nation. It was a British colony until 1981, when it won its independence, and English is the official language. A large portion of the country is of African descent and speaks 'Creol English.' It is a diverse country, with immigrants from the surrounding Hispanic countries as well as indigenous Mayan communities. It is also a tiny country. It is the size of Massachusetts but with fewer than 250,000 people (which means convenience stores are far and few between when biking). I learned these basic facts about Belize from a cyclist who I met on the road (movie on the right). I also learned that cycling is a popular sport here, and I was also impressed with the number of bike racks in Belize City.
I met Dennis, a good friend from college, at the Belize City airport. We assembled his bike and rode into Belize City for the night. Dennis, who has never biked more than 20 miles in a day, is new to bike touring. When he was deciding to join me, I promised we would bike short distances and spend lots of time on the beach. Plans change, though, and when he arrived, I told him we were biking 50 miles inland. He wasn't very excited.
Dennis and I biked one day to the capital of Belize, Belmopan, a town of 10,000 people, where we met with an organization helping Caribbean nations adapt to climate change. The following day I gave a presentation at Galen University, a university that attempts to incorporate sustainable development into all of its classes. Biking 10 miles down the road, we then spent the night at Jaguar Creek, an 'environmental peace' center.
Turning back towards the coast, Dennis and I biked along the base of the Maya mountains. Fortunately, the road never crossed over the mountains, avoiding any serious hills. Dennis reported, much to my relief, that he actually enjoyed bicycling and was not angry for the false advertising. It is, after all, a bicycle tour.
Stopping to camp for the night, we asked a retired American who moved to Belize if we could camp on his lawn. 'Sure, just one problem. I own a jaguar. I will try to put him inside.' Soon, a half-grown 11-month-old jaguar 'kitten' was diving into our stuff, and ran off with Dennis' biking glove. The jaguar then leapt onto Dennis leg. His owner tried to put the jaguar inside, but the kitten scratched the man and ran off, this time with Dennis' bike helmet. Recovering the helmet, Dennis and I decided it might be better to continue, and we camped on a lawn in Maya Center, a small town where the locals speak the language Maya Mopan.
The following day, we biked a short distance to Placencia, the beach town that I had promised Dennis. From here we would visit the coral reefs of Belize – reefs that are in great danger from climate change and the reason that I decided to visit Belize.