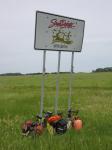 We rode into South Dakota today. It was a great ride because we averaged over 14 mph with a tail wind and cloudy skies kept the weather cooler. It's amazing how quickly things can change; the last 3 days we've been riding into a fierce head wind that had us averaging 7 mph. Today the wind shifted 180 degrees and the world became a far better place.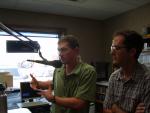 When we arrived in Watertown SD, we stopped at a restaurant where we could set up the mobile office and plan our radio interview, check email and catch up on the blog entries. A quick news search showed some incredibly positive news. The Senate agreed on a fuel efficiency increase for cars and trucks — an average of 35 mpg for cars, SUVs and pick-ups by 2020. This seemed impossible just a few years ago, but the winds have shifted 180 degrees and the seemingly impossible just happened.
Keep in mind that this is just the Senate that has agreed on a fuel efficiency increase. Now the House of Representatives will have to agree on one, the two bodies will have to come up with a compromise that they can both agree on and the President will have to sign it. Our elected leaders are debating a major energy bill that will play a huge role in addressing (or ignoring) global warming. You should contact (write, email or call) your two Senators and one Representative and let them know that you care about global warming and want a smart energy bill that will help address the problem. Now is a great time for them to hear from you and you can use this link if to find their contact information.