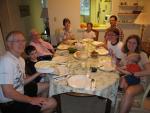 You may be wondering why the line on the map hasn't moved in the past week. I've been in Florida, spending Thanksgiving with four (!) different generations of my family. I will be missing the next two Christmases, and I figured I could justify flying across the country for Thanksgiving.
Unfortunately, flying across the country uses a lot of fuel. Even though airplaine efficiency has improved in recent years, flying still gives off almost as much carbon dioxide as driving. It is almost as if I drove across the country.
So I have purchased carbon offsets. This means that I am paying someone else to not pollute, or I am paying someone to take carbon dioxide out of the atmosphere. This is similar to how the Kyoto treaty works – if you emit too much carbon dioxide, you have to pay someone else not to emit it.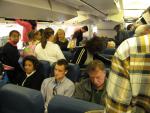 Flying to Florida, I was responsible for about 1 metric ton of carbon dioxide released to the atmosphere. I have paid $12 to www.climatecare.org to offset these emissions through their various projects.
Anyway, I'm back in L.A. now, about to try to take public transit from this Starbucks to the other side of town (It takes three different busses to get from the Ontario airport to the metro station. And the first bus? It was to the rental car parking lot and I had to ask the driver to make a special stop so that I could take the second bus).
Back to the bike tomorrow!