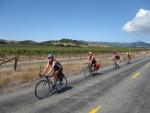 Our last few days of riding were through California's wine country in Sonoma County. As we were approaching the San Francisco Bay Area, where both Bill and I used to live, a number of old friends either hosted us or came out and biked with us.
In Sonoma county, we gave a flurry of presentations: a talk at Roseland University Prep High School, a talk for the Santa Rosa community at New College, a talk at Marmot (Marmot sponsored us with gear), and a talk at Sonoma High School.
It is amazing how different these audiences are. At Sonoma High School, many students drive their own car to school. Roseland University Prep, on the other hand, is a charter school that serves largely an immigrant population. After the presentation, I talked to one student whose family was unable to pay their electricity bill.
After another day of biking, we reached Fairfax, just 20 miles north of the Golden Gate. On Saturday morning, a group of cyclists, mostly friends or people who have been following Ride for Climate, met us in the morning and biked across the Golden Gate bridge, celebrating the end of this leg of Ride for Climate USA.